Employee Recognition for Your Business
"People work for money but go the extra mile for recognition, praise, and rewards." ~Dale Carnegie
Let Your Team Know THEY Are Your TOP Priority
A strategically designed recognition program demonstrates to your employees that they are essential to you as people and as members of the organization. Creating a strong emotional connection with employee recognition programs helps companies increase employee motivation, elevate their performance, and reinforce the desired behaviors that will boost profits and ROI.
The GRATITUDESgroup Difference
Our strategic approach to employee recognition program design creates a workplace of productivity and growth through actionable engagement strategies such as:
Assessing multi-generational trends

A tiered approach that encompasses the entire organization

Configurable program designs that align with your values, sales, and training objectives

Incentives that align, motivate, educate, inspire and reward 

Programs designed to acknowledge and celebrate associates
Our Technology Solutions
Whether you are an enterprise company looking for one technology to manage a comprehensive program or an organization looking to change a specific behavior quickly, GRATITUDESgroup can guide you to the best solution to meet your needs.  
We choose to be technology-neutral, allowing us to provide a more cost-effective and tailored solution for our clients. Our technology solutions create and deliver impactful incentive, loyalty, and recognition experiences through the following types of programs:
Total Recognition and Rewards Programs

Traditional Years of Service Award Prgrams

Internal and Channel Sales Incentive Programs
SPIFF Programs

ROI Modeling and Program Execution

Communication Strategies

Meeting and Event Solutions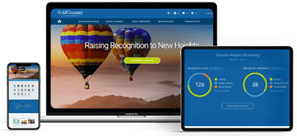 Ready to Connect the Dots to Employee Recognition?